BoneBrake Herefords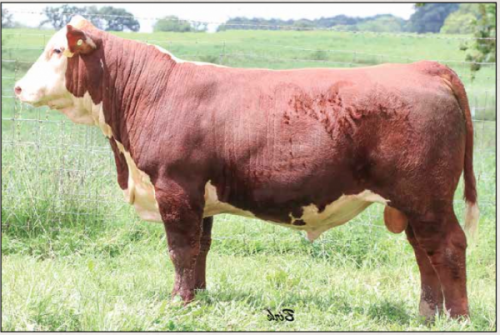 It is still debatable when the first hereford was registered at Bonebrake Herefords at the original farm located in Dent County Missouri. Although our logo says 1936, if you go back far enough, Albert Bonebrake actually registered the first Hereford under the Bonebrake name in 1934. Albert raised sheep and the story is that he took a load of sheep across the Missouri River and traded them for some Hereford heifers and a 16 gauge Shotgun, and yes…they still have the shotgun.
M.D. Bonebrake, son of Albert has always had an interest in the farm and Hereford cattle. When M.D. (Mac) set his roots in Springfield, MO, he was able to move the Hereford operation to Springfield, MO and established a solid Hereford bull market for local commercial cattleman. Mac also had a son, Al Bonebrake that was interested in the farm and Hereford cattle.
Al's goal was to catapult the Hereford operation into an extra gear by participating in national shows and sales and expanding the market for Bonebrake cattle. He knew he needed help to do this and in 2009 he hired Steve Greene and his wife Jessica to manage the Hereford operation. Today Bonebrake sells between 40-50 bulls annually, participates in many sales including a production sale held with other Hereford breeders located in Dent County, (Salem, MO). The original farm is still owned by the Bonebrakes and just a few miles from the sale location although the Hereford operation is now in Springfield.
Most of the original horned genetics are still in our cows. It was a great opportunity to outcross these older proven genetics with modern polled bloodlines when the Horned and Polled registrations merged in 1995. Much time is taken when doing breeding match ups with each individual cow or heifer on carefully selected bulls. Although we concentrate mostly on maternal traits, we realize that pounds are what matters to the commercial cattleman, and we try to have a bull that will match any cow operation.